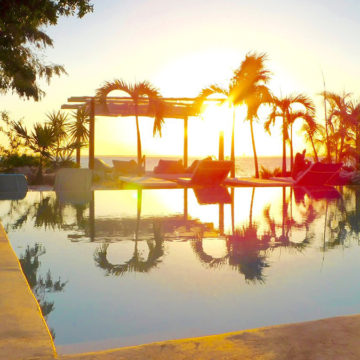 Parasailing
Parasailing is offered on the beach opposite some of the hotels. There is also parasailing at the Aquaworld marina.
Snorkeling
The best snorkeling area off the beach is the public area near the Westin Regina, in the southern tip of the hotel zone
Beach Volleyball
There is a volleyball net in the same area and one near the Casa Maya.
Cancún Museum: Cancún Convention Center, Blvd Kukulcán Km 9 (98)83-0305 Tues to Sun, 9 – 7 Admission charged. children under 11 free Sundays free
Cancún's museum is located on the ground floor of the city's convention center. It traces the Maya culture with an impressive collection of 1,000 to 1,500-year-old artifacts. There are a number of impressive carvings and frescoes, along with ancient artifacts that have been unearthed at nearby sites throughout Quintana Roo. A visit to the National Institute of Anthropology and History can add another dimension to exploration of the Mayan ruins and is a fascinating introduction to the ancient culture. Guided tours in English, French, German, and Spanish are available.
Ruinas del Rey: Paseo Kukulkán Km 17
This archaeological dig, though small, is notable for the unusual architecture of two main plazas bounded by two streets. The majority of Maya cities had one plaza and few streets. This site may have been a royal burial ground.
Avenida Tulum: Many restaurants and shops are located along this avenue. Life-size reproductions of ancient Mexican art are displayed on the median, including the Aztec calendar stone and the Atlantids of Tula among others.
Undersea Boat Tour:
You can get a great look at the reefs and marine life on a tour on an undersea boat tour. The tour leaves from Isla Paraiso, which is also a spot for all-day snorkeling, with a get a discounted fare for both.
Ballet Folklorico de Cancún Cancún Convention Center Blvd Kukulcán Km 9 (9) 883-0199 Cocktails start at 6:30, dinner at 7:00 pm and the show at 8 PM Telephone for ticket reservations and prices.
Cancún's famous dance troupe performs nightly at the Convention Center. This popular revue showcases regional dance and music from across Mexico. The dancers, wearing traditional costumes, perform authentic dances accompanied by live musicians. It's a colorful show, and is very lively and entertaining. A Mexican buffet dinner is served before the show.
Teatro Cancún Blvd Kukulcán, Km 4 (9) 849- 4848
Enjoy the chants and dances of México along with the dances and drum beats of the Caribbean at Teatro Cancún. This is an high-energy show full of movement and music performed by some of Cancún's most talented dancers and musicians. No reservations are required.
Casa de Cultura (House of Culture) Prolongación Av. Yaxchilán, Sm 21 (9) 884-8364 Admission fees are nominal
Cancún's community center for culture is located downtown and offers a variety of weekly cultural events such as music concerts, dance rituals, plays and poetry readings. An on-site museum displays works of local artists. The exhibits change each month.
Bullfights Av. Bonampak (past the Pemex Station, near Plaza las Americas) (9) 884-8372 or (9) 884-8248 every Wednesday at 3:30 Tickets begin at $40
The first bullfight in Mexico was held in 1526 in honor of Hernán Cortés and shortly afterward bullfighting arenas were built throughout the country. While Cancún's bullring is certainly much younger than those found in other cities, it maintains all the traditions of this ancient duel. You can witness the battle between man and beast. One hour before the bullfight, matador, charros (cowboys), a mariachi band, and flamenco dancers entertain you with song and dance until the bulls are ready.
Sports:
There is nonstop action on both land and sea. Choose from a wide variety including jet-ski and parasailing thrills, scuba diving and boating. The main course for golf is Pok-Ta-Pok. With 18 holes facing both sea and lagoon, the club has a practice green, pool, tennis courts and restaurant. The Caesar Park Beach and Golf Resort and Hotel Melia Cancún also feature 18-hole courses.
Golf
Cancún has 4 18-hole golf courses available for the avid golfer. In Cancún you'll find one at each tip of the island. The other two courses are found to the south on the Mayan Riviera.
Kayaking & Windsurfing
Kayakers & windsurfers will find Cancún's waters perfect for your enjoyment. For calmer waters, try the protected Nichupté Lagoon or the northern end of Cancún Island. Jet skiing, parasailing and regular sailing are also popular in this water paradise.