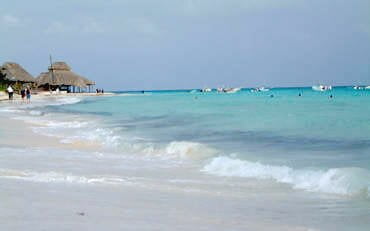 Mexico's Caribbean coast combines miles of white sand beaches and crystal-clear waters, with the Yucatan Peninsula home of the mysterious lost civilisation of the Mayans. Just 68 kilometers (41 miles) from Cancun, Playa del Carmen (or Playacar) accommodates a variety of resorts, all with white sand beaches and excellent coral reefs.


Playacar – Playa del Carmen
It was fashioned with a European flavor, and has slowly been modernizing and blending cultures. the most popular area is the 5th Street (la Quinta Avenida) half mile of shops. You will find Mexican crafts, and a broad assortment of art and souveniers. This is a very busy area, just a few steps from a beautiful beach. There are several large hotels up and down the beach, each with its own outdoor restaurant and bar. This is a nice town to spend a few extra days either at the beginning or end of your week.
Xcaret
Spending a day on the Beach at Playa del Carmen is always a must do in your vacation. Only 6 km. south of Playa Del Carmen is the Mexican version of Disneyland. X-Caret is a 250 acre ecological theme park with a number of attractions.  Archaeologists are still excavating the area and several ruins have been restored. One of the main attractions is the educational Dolphinarium with workshops and swimming with the dolphins.  Another main attraction is the underground river ride that floats visitors past coralline deposits and unusual fish in the river and lasts for about 25 minutes.  You can find a a botanical garden, a museum, a turtle farm, a butterfly garden, horseback riding, a lagoon great for young snorkelers and a beautiful beach. The park also has dive shops on site, a restaurant and a gift shop.  Public transportation is available from Playa del Carmen.